Will's harmonica workshops are suitable for players of all levels and complete beginners, with plenty of scope for learning from basic technique to how to hone an innovative style on diatonic, chromatic and tremolo.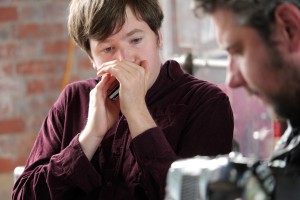 Bring all the questions that you've built up in your playing and practice and enjoy a full day of all things harmonica. The sessions are focused around your questions and determined by the aspects of harp-playing you want to talk about. There is also plenty of time to chat with Will one-to-one in the lunchtime and break time drop-in sessions. The workshop finishes with a session and
experimenting with the techniques discussed during the day.
Will is always working on new compositions and tunes. He is always happy to demonstrate his ideas and new material and to discuss his own writing process and original style. You will leave the
workshop with new inspiration your own compositions, new techniques on the harmonica or just feeling energized to keep harping on!
Joint Blues & Folk Workshop with Will Pound & Liam Ward
29th January at the Midlands Arts Centre, Birmingham
Ticket link: http://www.wegottickets.com/event/383583